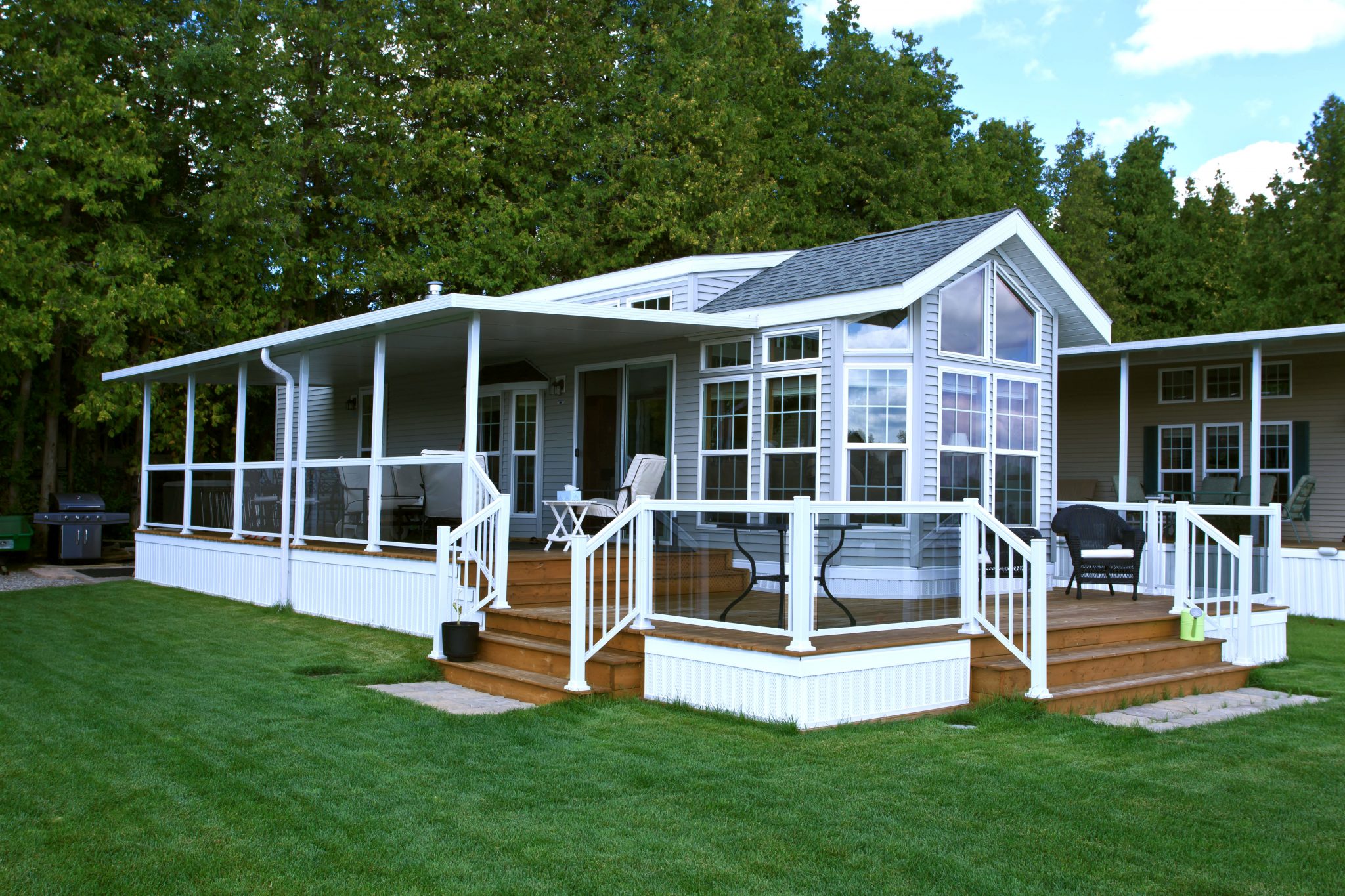 Enlarge your living space with a new Total Room Package. Simply pick a style, pick the area and let Resort Living RV by Sunspace do the rest! In as little as one day, we can add a whole new living space to your existing Park Model RV. Bright, sunny and relaxing, your new Sunspace Sunroom will turn into your favourite room to spend time in.
If you enjoy the airy feeling of your existing Deck but want protection from bugs, the elements and harmful UV Rays, the Sunspace WeatherMaster system is for you! This versatile 4-track vinyl window and screen system offers a generous 75% ventilation opening through tough, resilient window units that slide up and down effortlessly.
The patented Sunspace Roof System is available in 3″, 4″ and 6″ thick panels made of a high density foam core with aluminum skins laminated on both sided. Each Roof System has an internal water troughing system to channel away moisture and comes standard with heavy duty extruded aluminim gutter and fascia. Our Sunrooms, WeatherMaster Windows, Railings, Decks and Roofs are available in a variety of of colours and have a number of additional add ons available including: aluminum support posts, glass knee wall, glass transom, interior divided walls and more!
Features & Benefits
Our service is ranked among the best in the industry, with thousands of very satisfied customers who now enjoy their RV's even more. By approaching every project with professionalism, craftsmanship, dependability and the highest levels of quality control, ensures that your Sunspace purchase will be a worry free experience from start to finish.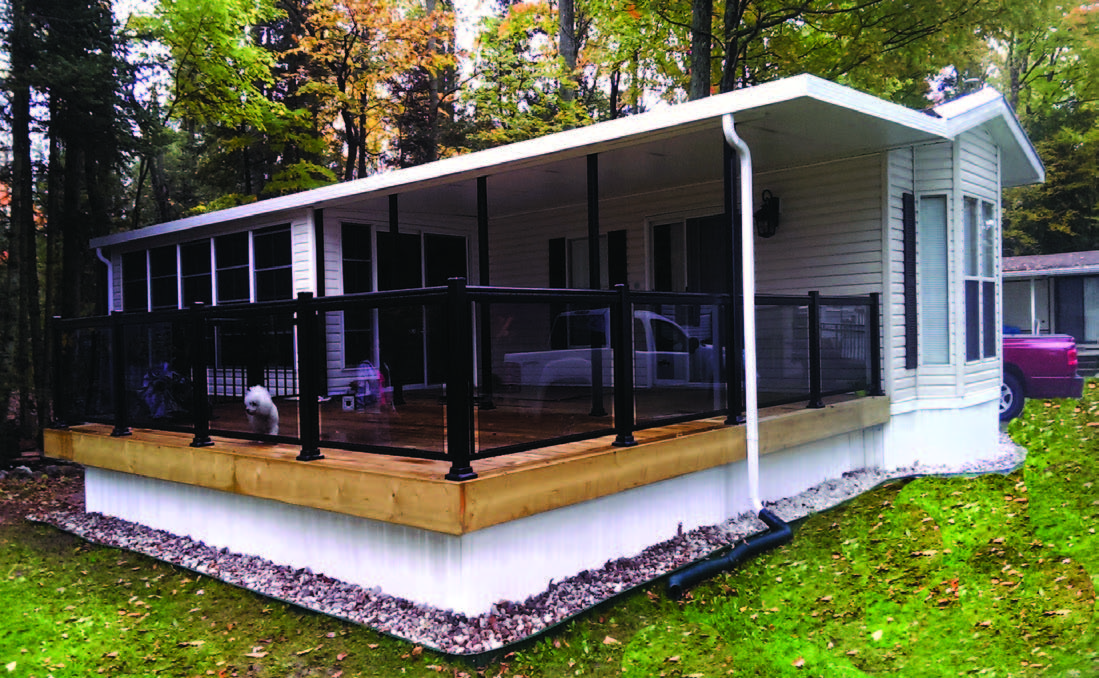 Benefits of Choosing Sunspace
All aluminum construction.
Not effected by condensation, moisture, or insects.
Aluminum construction—structural and code compliant.
Quality aluminum and vinyl windows.
Integrated laminated foam wall panels
Custom size windows (reduced filler size).
Custom back wall height.
Additional patio doors at no charge.
Virtually maintenance free interior and exterior.
Why All Aluminum Construction?
Sunrooms installed on RV's are subject to unique conditions. Due to the seasonal use, heating and cooling takes place as climate and temperatures change. This can result in condensation and moisture not normally experienced. For that reason Sunspace has constructed all of its sunrooms from extruded aluminum. Free from any wood product, this ensures years of maintenance free use, structural integrity and protection from unseen mold or mildew that can occur in wood.
Wall Systems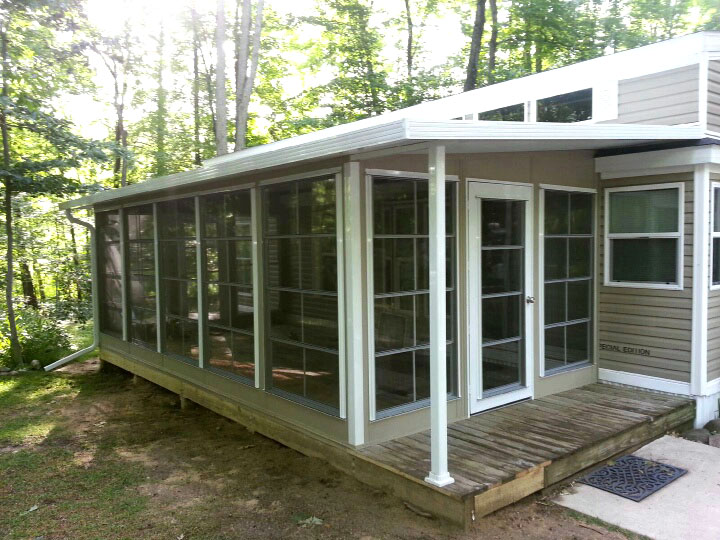 Get the most out of life while sitting in your screen room by Sunspace. You create the design, we build to suit. Your screen room will now become a great place to entertain company, family get togethers or just to sit and relax without the bugs driving you inside.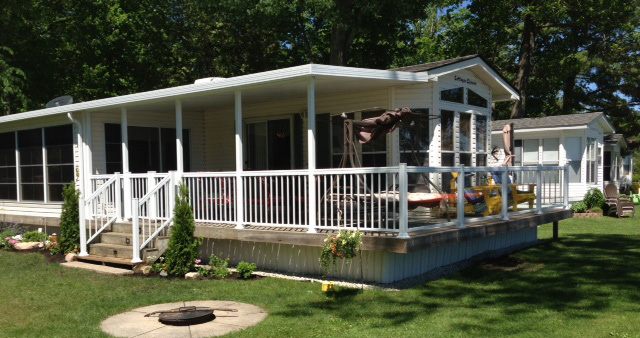 WeatherMaster 3-Season Walls (Model 200) If you enjoy the open airy feeling of your existing deck but want protection from bugs, the elements and harmful UV rays, the Sunspace WeatherMaster System is what you're looking for. Made with 2″ foam panels and aluminum extrusions, the walls incorporate the versatile WeatherMaster 4-Track Vinyl Window and Screen System. Vents are glazed with ViewFlex, a tough, resilient vinyl, available in clear, smoke grey, dark grey and bronze. The window units effortlessly slide up or down allowing a generous 75% ventilation opening.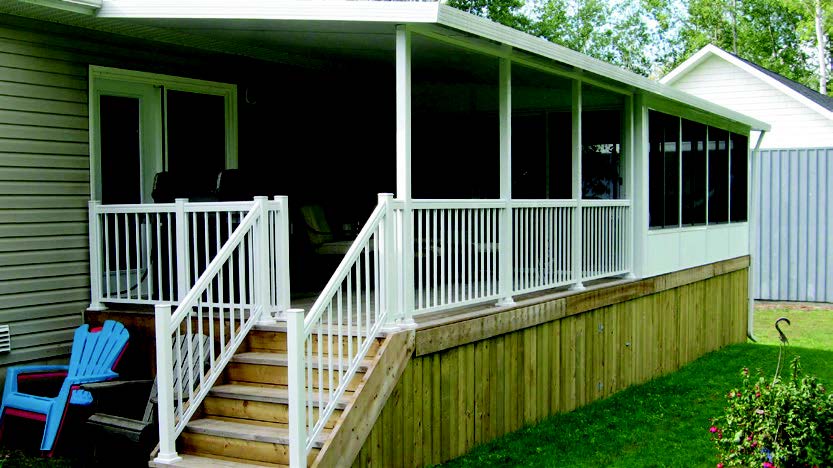 A 3 Season Sunroom by Sunspace is a bright addition to any RV. Sunspace 2" aluminum extruded insulated modular walls with single glazed glass gives the 3 Season Sunroom strength, stability and a virtually maintenance free exterior. Aluminum framed, double roller windows offering ventilation out of both sides of the window, with no fixed side as both sashes operate!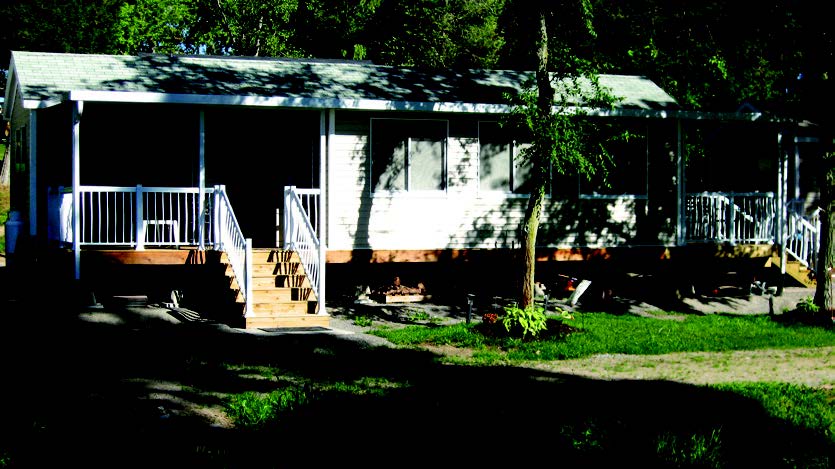 Building on the three season sun room the Thermal sun room by Sunspace takes you to a new level in comfort. By offering three inch extruded insulated aluminum pillars and double glazed windows, the thermal sun room allows you to extend your seasons enjoyment.Whether it is a three season or thermal sun room you will enjoy a new high quality, customized comfortable sun room.
Using our custom designed software to build your virtual sun room reduces the amount of time spent on site. By allowing you to see your project at this stage, it gives you the ability to make changes with no cost over runs when the actual construction begins. Offering such a high level of engineered parts and material will only add to the reliability and comfort of your newest addition.
Roof Systems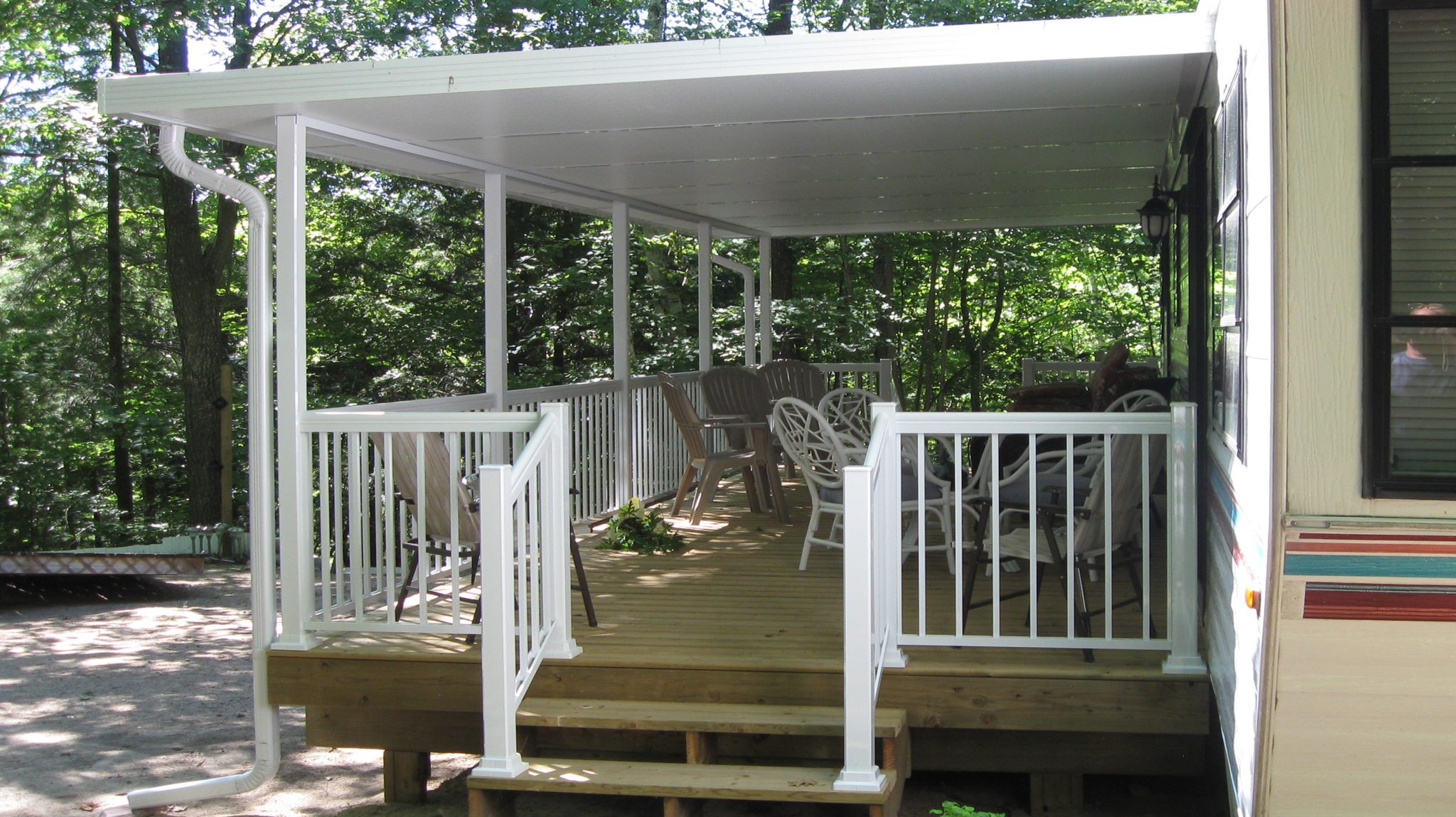 Why Choose a Sunspace Roof System?
Choose from 3″, 4″, or 6″ thicknesses.
Roof projection, snow load & R-Value are always considered in the customization of your roof system.
All systems constructed of high-density foam core.
Laminated with aluminum skins on both sides.
Integrated gutter system with wide profile.
Worry-free heavy-duty extruded aluminum gutters and fascia.
Railing Systems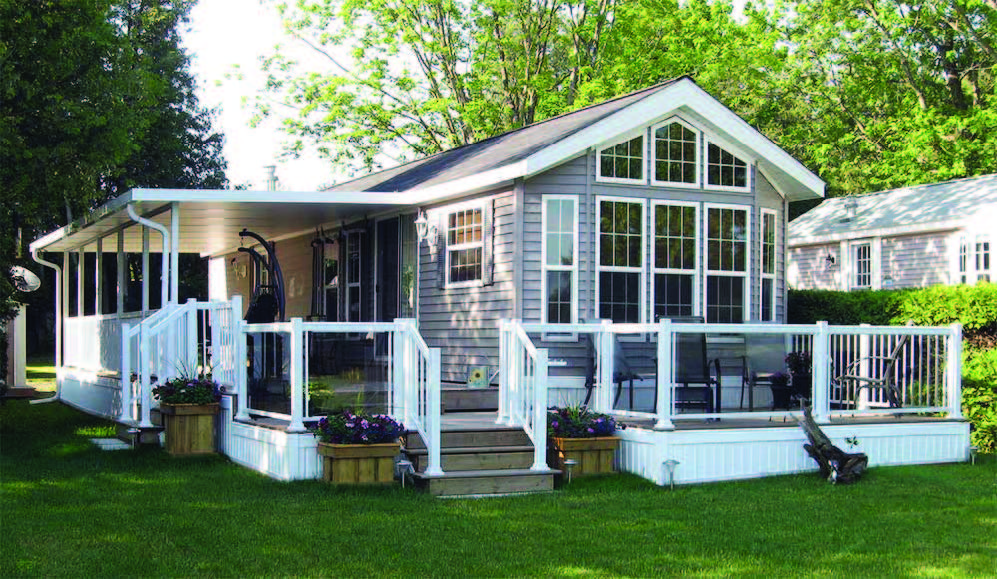 Why Choose a Sunspace Railing?
Built from structural aluminum alloy.
Maintenance free.
No visible fasteners.
Code compliant heights of 36″ or 42″.
Attaches to wood or concrete.
Variety of handrail styles to choose from.
Non-shattering safety glazing