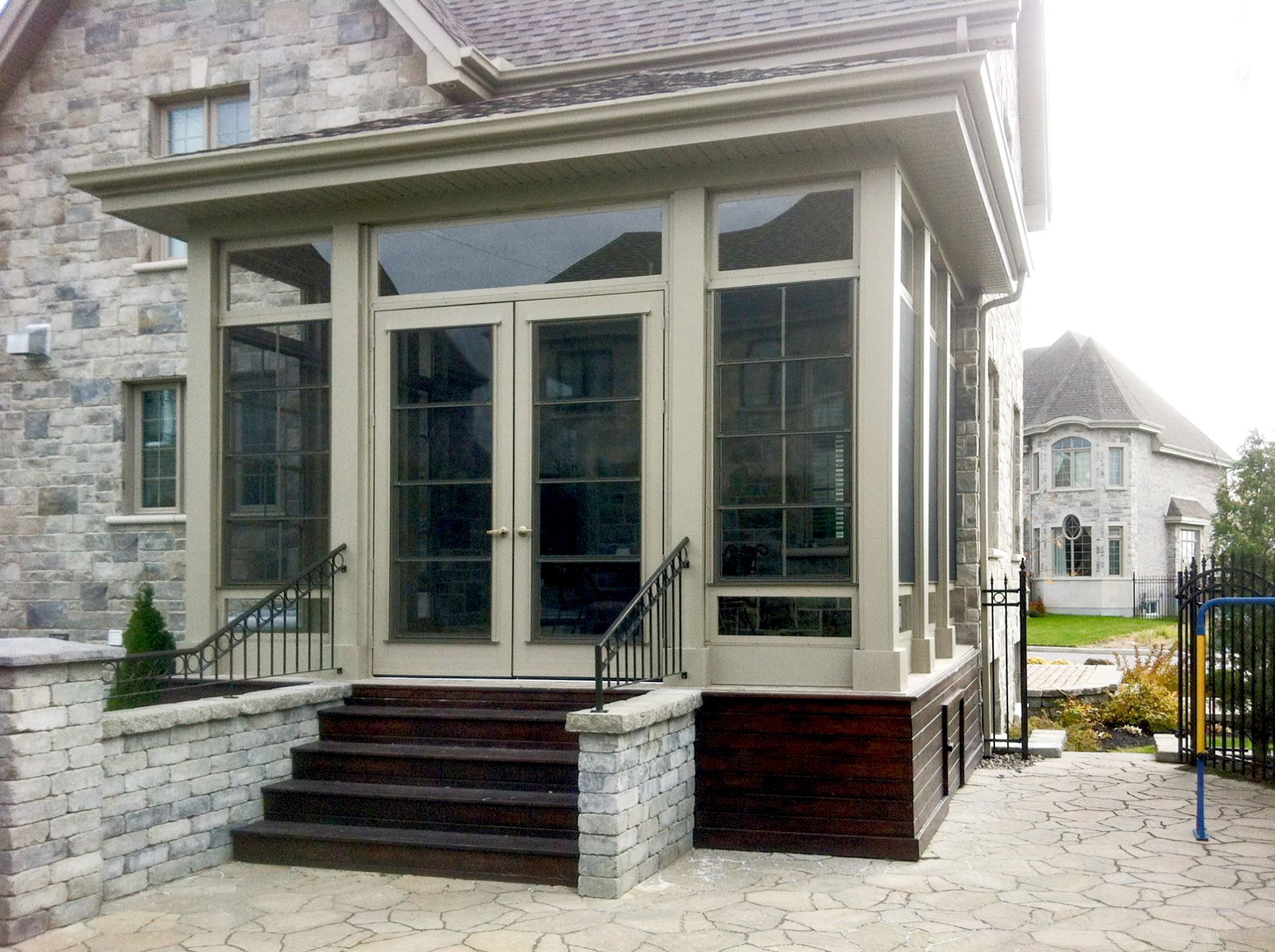 Designed to extend your enjoyment of the outdoors without the usual annoyances of wind, rain, insects and harmful UV rays Sunspace has the sunroom that's right for you. Not only will a new Sunspace sun room add beauty and comfort to your home, it will also increase it's value. These enclosures can also be installed directly onto an existing patio or deck or under a previously constructed roof. Whether it's a patio room or a thermal room, either way Sunspace will provide you and your family with a lifestyle change that you will enjoy for years to come.
Sunspace sunrooms have the design flexibility that few systems can offer. All of our sunrooms are custom designed and engineered to fit the exact specifications of your homes architecture. Sunspace sunrooms are available in a variety of colors to allow you to design a sun room that best suits your needs. Convert an empty yard, deck or porch into a new room for the family, a children's play room, an exercise room, a spa room, an eating area, or just a quiet place to relax in.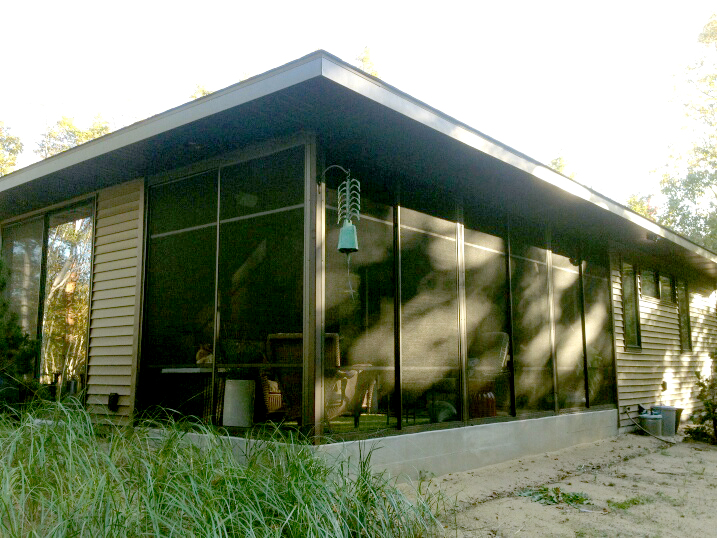 Get the most out of life while sitting in your screen room by Sunspace. You create the design, we build to suit. Your screen room will now become a great place to entertain company, family get togethers or just to sit and relax without the bugs driving you inside.
Every region of the continent has its fair share of good and bad weather. With a Sunspace sunroom you can control the harsh conditions that might otherwise keep you inside. Sun, rain and wind can all spoil an afternoon outside, but not anymore.
Don't let nature lock you inside, rather enjoy the seasons from the comfort of your new screen room by Sunspace.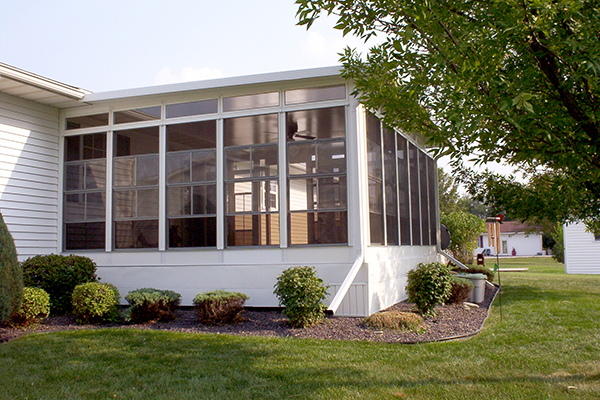 If you enjoy the open air feeling of your existing deck but want protection from the bugs, the elements and harmful UV rays, the Sunspace model 200 is what you are looking for. Made with two inch foam panels and extrusions, the walls incorporate the versatile WeatherMaster four track vinyl window system.
The vents are glazed with ViewFlex, a tough resilient vinyl, available in clear, smoke grey, dark grey or bronze. The window units effortlessly slide up or down allowing a generous 75% ventilation opening!
We all love the great outdoors but there are some things we can do without: bugs, extreme heat, humidity and bone chilling winds. With a Sunspace sunroom you can extend your outdoor season by weeks even months in perfect comfort.
Watch the flowers grow and the leaves change from your favorite chair.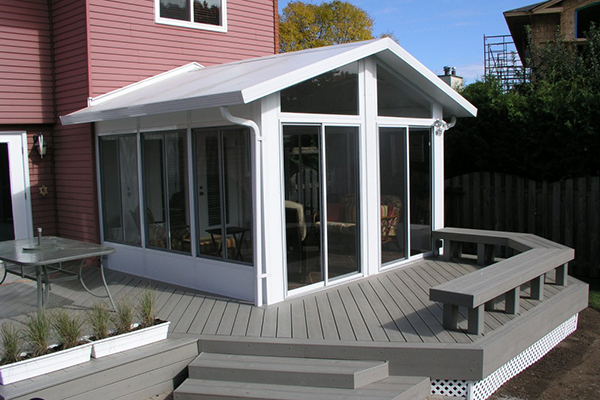 A three season sunroom by Sunspace is a bright addition to any house whether it's a family room, children's playroom, exercise room or to enclose a hot tub, the possibilities are endless.
Sunspace two inch extruded insulated aluminum pillars with single glazed glass or vinyl glazed windows give the three season sunroom strength, stability and a virtually maintenance free exterior.
Not only are you adding living space to your house but your also adding value to your home with a three season sunroom from Sunspace.
Designed with your families lifestyle in mind, Sunspace can build you the sunroom of your dreams. Sunspace has no standard sizes, each sunroom is custom made using materials that are designed and manufactured by Sunspace.
The end result is a sunroom designed to fit your home's unique style, and your needs for a bright and airy room.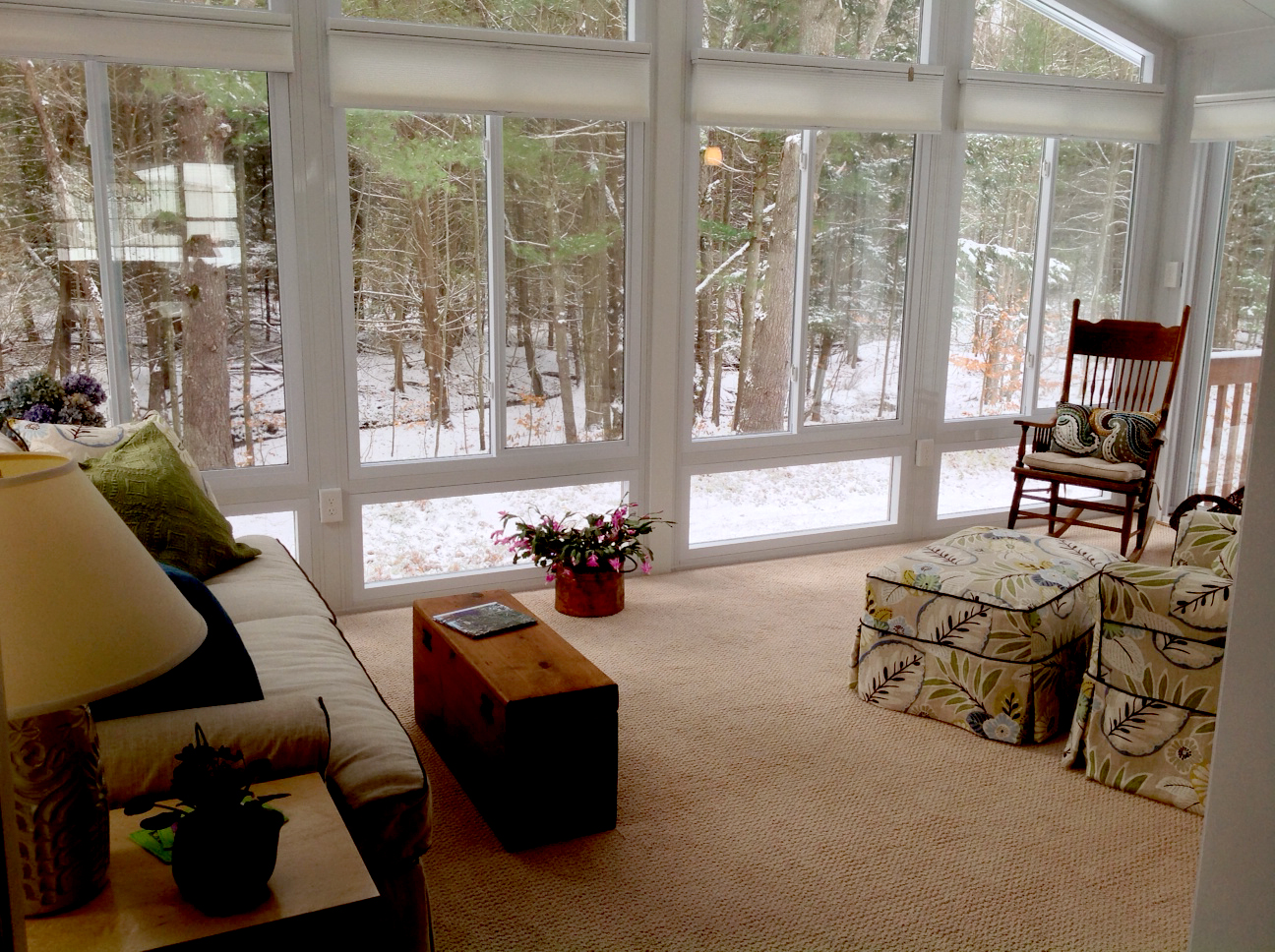 Building on the three season sun room the Thermal sun room by Sunspace takes you to a new level in comfort. By offering three inch extruded insulated aluminum pillars and double glazed windows, the thermal sun room allows you to extend your seasons enjoyment.Whether it is a three season or thermal sun room you will enjoy a new high quality, customized comfortable sun room.
Using our custom designed software to build your virtual sun room reduces the amount of time spent on site. By allowing you to see your project at this stage, it gives you the ability to make changes with no cost over runs when the actual construction begins. Offering such a high level of engineered parts and material will only add to the reliability and comfort of your newest addition.